Signature Three-Wick Scented Candle
100 Acres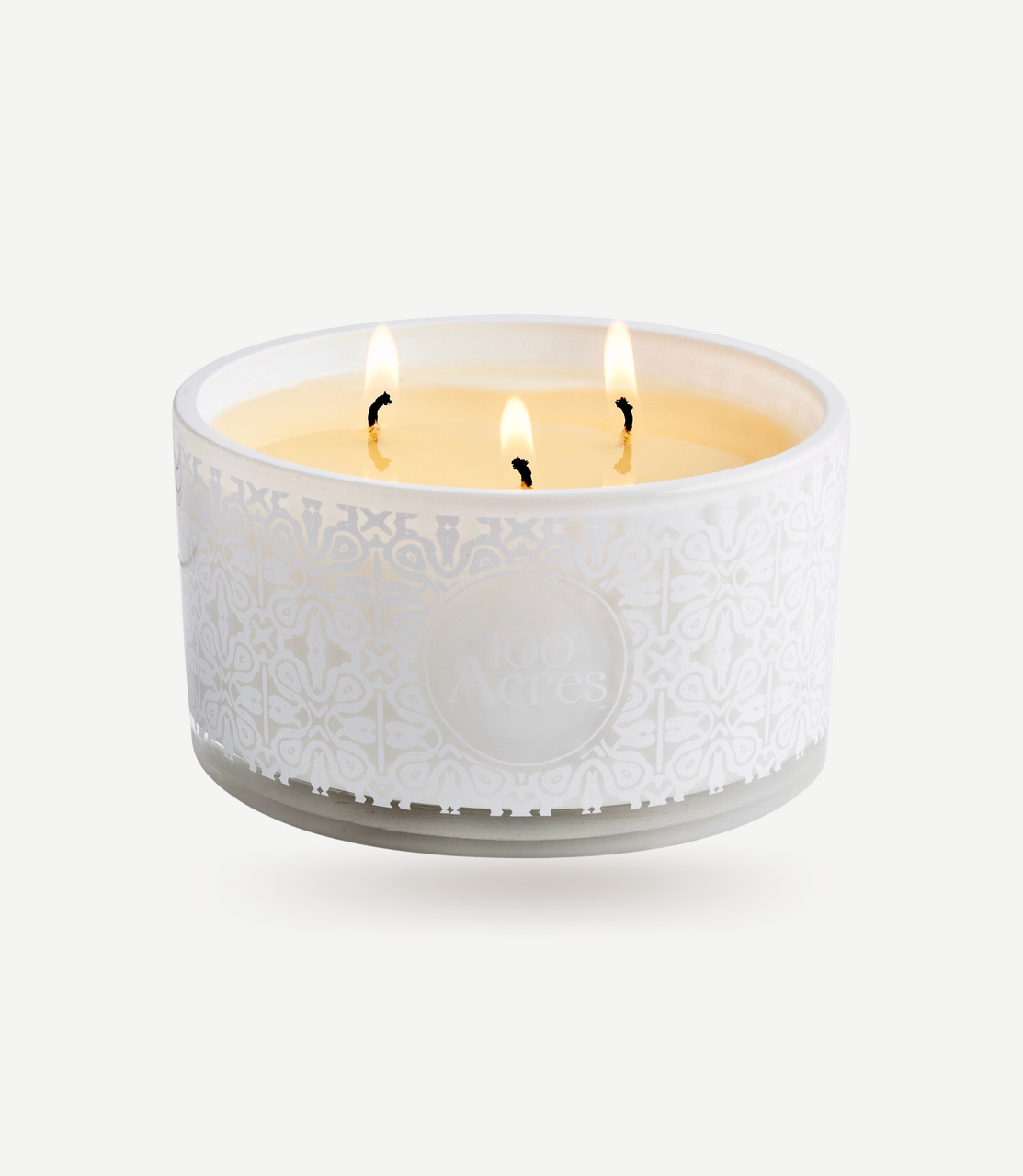 A fragrance that's truly like no other, top notes of aromatic lemon myrtle, fresh lavender and zesty grapefruit are blended with balmy cedarwood, green rose geranium and our Signature (secret) 100 Acres base to create an utterly exquisite, moreish fragrance.
We've imagined having our own 100 acres of British countryside to roam around in, complete with luscious fruit trees, overgrown wild herbs, fragrant botanicals and abundant wildflowers. This luxury candle captures what this heavenly 100 acres would smell like. It's a countryside escape in a candle.
The sublime scent of this gorgeous three-wick, all-natural candle fills any room with ease, plus the delicious botanical fragrance will linger in the room, even when the candle isn't lit. You know a 100 Acres house as soon as you walk into it, and this candle is why.
Read more about our story and our values here.
Made in Britain. We don't just capture the scents of the British countryside – this all-natural, luxury candle is handpoured in the rolling hills of the British countryside too, by artisans.
100% natural, non-toxic, exceptional quality plant-based ingredients, such as aromatic botanical extracts and the finest essential oils, all of the absolute highest quality we can source. Our luxury candles are made from a blend of sustainably sourced soy and rapeseed wax, so there's no paraffin, petrochemicals, synthetic perfumes – absolutely nothing synthetic. Just 100% natural, high-quality, traceable ingredients.
Housed in a gorgeously decorated, fully recyclable glass jar, complete with a natural wick cloth.
Cruelty-free, vegan, and we never ever test on animals. We trace our ingredients to ensure sustainable sourcing.
400g. Burn time of around 75 hours. Also available as a 220g size.
Burn your candle for a minimum of two hours from first lighting. We recommend burning your candle for no more than four hours.
Always allow the candle to reach a full liquid burn pool before extinguishing – this is to avoid tunnelling, ensuring you get the best from your candle.
Trim the wick to 0.5cm-1cm before lighting.
Extinguish with a snuffer if possible to minimise smoke and preserve the fragrance.
Dot our heavenly signature candles throughout your house to fill it with the heavenly essence of the British countryside. All 100 Acres fragrances are designed as a family to complement and enhance each other - put a 100 Acres Hand Wash and Hand Cream on your sink too, to complement the fragrance of this candle and leave your home smelling divine.
Once finished, we love to reuse our candle jars as vases, pots, glasses and more. Or, just reuse them with tealights, as the glass itself emits a gorgeous glow.
Complimentary shipping over £50.
Please note that at present, we cannot ship candles outside of the UK mainland. We are working with our courier to find a solution to this, but for now, if you are outside of the UK mainland, we would kindly ask that you do not purchase our candles.