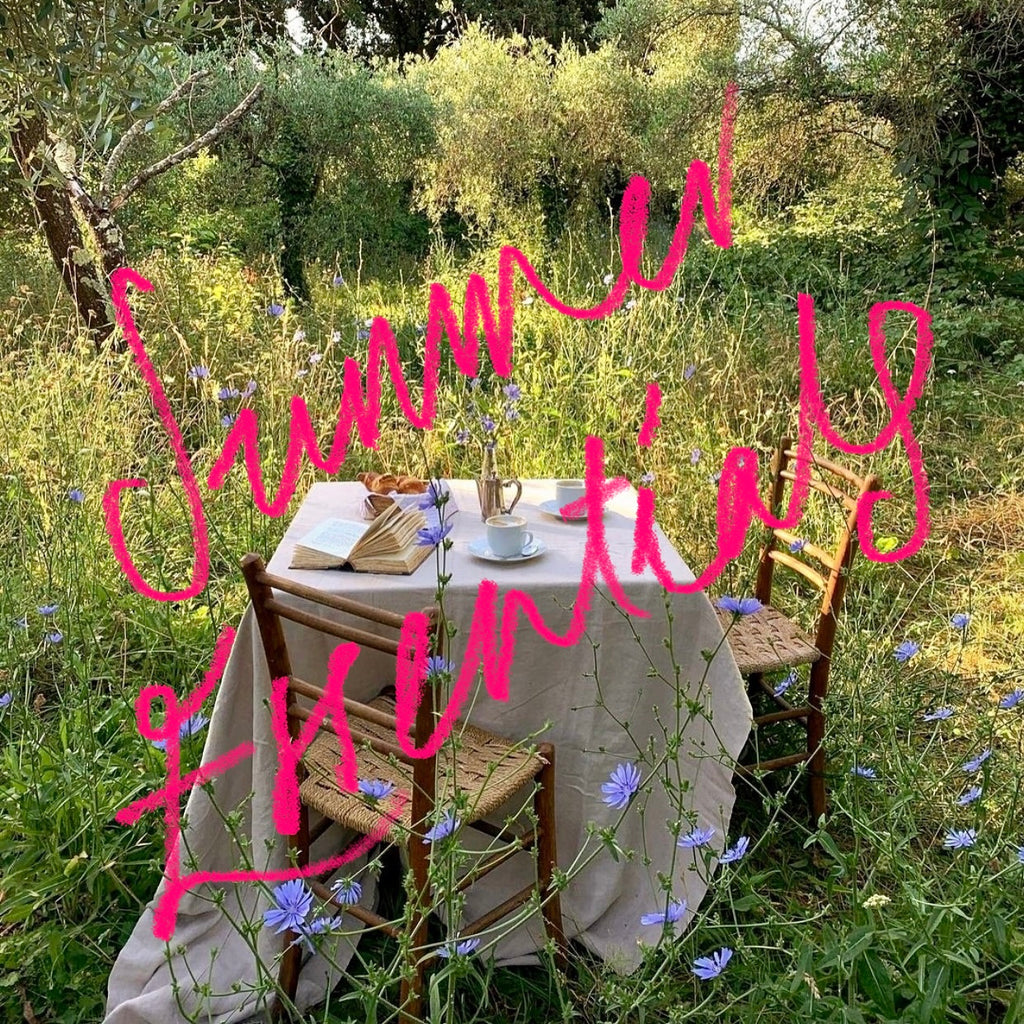 If there's any chance of a field frolic – whether that's to the rolling green hills of the British countryside, the cypress-sprinkled landscape of Tuscany, the herbaceous planes of Provence, the ancient olive groves of Greece or the fragrant, sun-baked hillsides Morocco - we're there.

So much so, that we've got our Summer travel essentials down to a fine art (a necessity when you're as obsessed with frolicking through the outdoors as we are).

 So – without further ado – these are our 100 Acres tried-and-tested Summer travel essentials. A handful of luxurious, timeless essentials, perfect for pool lounging, hillside herb gathering and wafting through leisurely sunset suppers with friends, surrounded by swathes of flower bushes, string lights and abundant fruit trees.
A floaty dress - green of course - perfect for sauntering through blooming botanical gardens at dusk...
some seriously cool rope sandals (although admittedly, if there's the opportunity to be barefoot, we will be)...
 a gorgeous basket, perfect for filling with your Summer bounty of flowers, wild herbs and ripe fruits...
one of our favourite herbology books, perfect for whiling away hours under the sun...
beach essentials, of course - the only sunglasses you'll find us in, the most 100 Acres swimsuit and a glow-inducing Summer body oil...
and, finally, the often overlooked ultimate holiday luxury – some seriously indulgent botanical body treats to make your skin look, smell and feel utterly sublime.

Made from freshly distilled herbs, flowers and fruits – think rose geranium, lemon myrtle, jasmine, sage, sweet orange and many, many more – if you take 100 Acres with you, you'll be quite literally soaking your skin and senses in the heavenly Summer greenery all around you. 
All of our best-selling products come in 100ml travel sizes, (which we're currently offering 3 for 2 on...) which are perfect for packing into your hand luggage so that you can indulge both your skin and senses in utter botanical luxury during this Summer's escapades. (Isn't that what holidays are for, after all - the best of the best?). 
Wake up and immerse yourself in the luscious botanical haven that is our body wash. 
Bursting with over ten freshly distilled botanicals
 - sweet orange, rose geranium, magnolia and lavender to name just a few - 
our 100% natural body wash is like a Summer garden frolic in a bottle and will leave your skin smelling divine for the entire day, too.

Spent a little too long in the sun? Treat your skin to a serious dose of moisture with our body lotion. 
Packed with hydrating shea butter and sweet almond oil, it's rich yet strictly non-greasy and will leave your skin delicately scented roman chamomile, lavender, geranium and a touch of refreshing lemon, too...
our body lotion is a moisturising botanical feast for the skin.
Somewhat of a secret for those in the know, our shampoo is the answer to shiny, soft Summer hair. 
Avoiding commonly used sulphates (the main culprit of parched strands), purifying lemon, sage and kind botanical surfactants  will leave your hair gently yet effectively cleansed, and 
- in true 100 Acres style - will ensure your hair leaves a fragrant trail of herbaceous deliciousness wherever you go. 
Made with some of the most hydrating ingredients in the botanical world, our conditioner intensely nourishes dry holiday hair...
(while you may adore sea water...your hair doesn't). 
Packed with moisturising botanical oils such as rose geranium, luscious neroli and just a touch of uplifting clove, your hair will seriously thank you after a few minutes with our conditioner.
And that, ladies and gentlemen, is how to have a stylish & sublimely-scented Summer, 100 Acres style.

For a limited time, get 3 for 2 across all of our 100ml miniatures. No need to add a code - simply add 3 or more miniatures of your choice to your basket and the cost of the third will be removed in the checkout stage. Applies to all multiples of three , so why not treat a holiday partner - husband, friend, daughter - to some little holiday luxuries, too...they'll probably only steal yours anyway.