100 Acres Signature Botanical Bubble Bath
100 Acres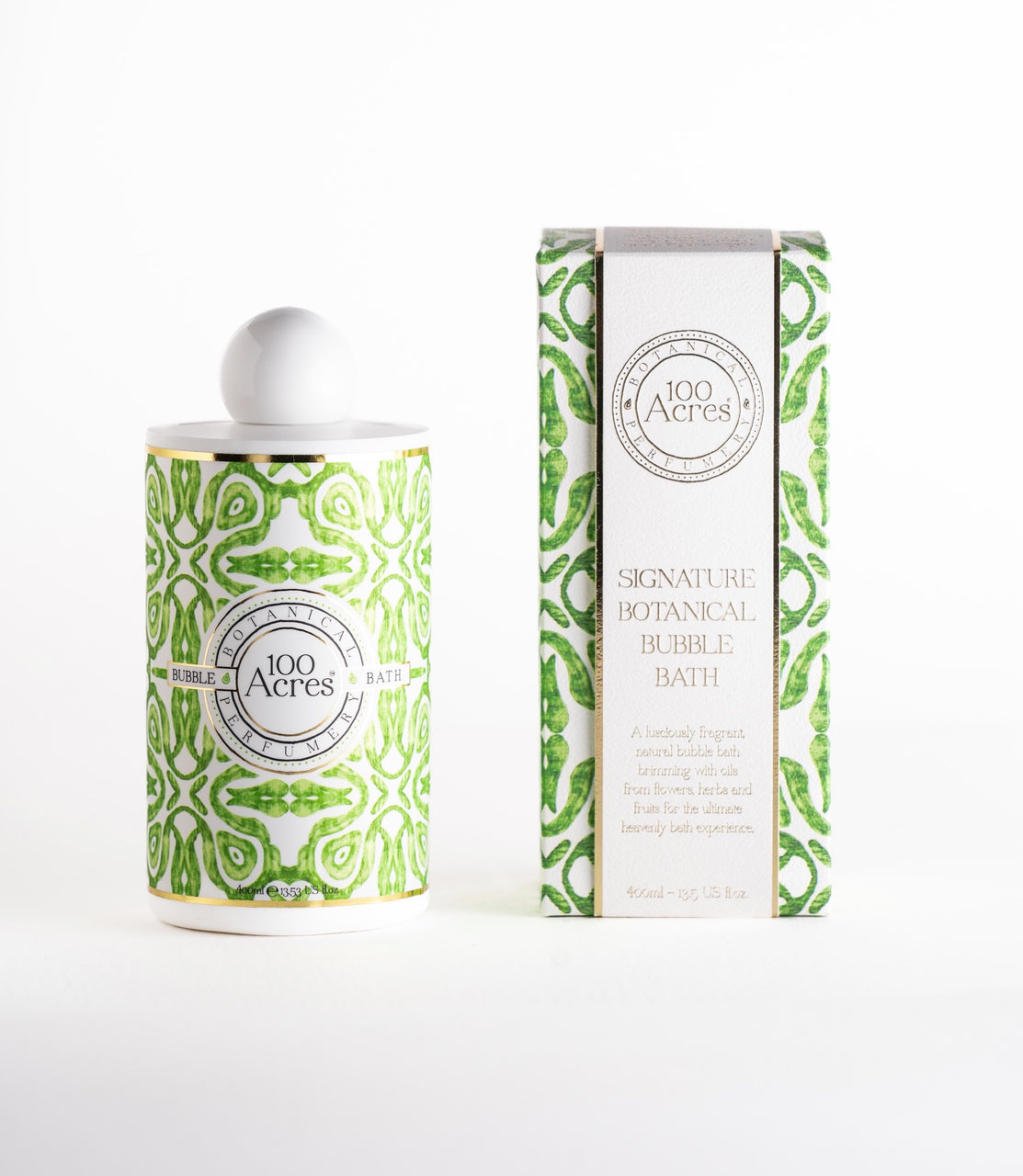 A lusciously fragrant, natural bubble bath brimming with an impossibly delicious scent and bursting with skin-softening botanical oils – just a few drops will instantly turn your bathroom into a luxurious countryside spa sanctuary.
We've blended top notes of crisp rose, herbaceous lavender, sun-drenched geranium and sweet orange with undertones of comforting ylang-ylang, verdant lavender and a tiny touch of warming clove for richness and depth.
It's an utterly blissful, transportive scent that will leave you feeling like you're floating through a hundred acres of countryside complete with rolling, green meadows and abundant floral gardens at the height of English Summer.
A rich, silky, honey-like texture, our bubble bath hydrates the skin and will leave your bathroom and limbs smelling like a green botanical oasis for hours after use.
Pour generously under running warm water, watch as your bath fills with luscious, plump, pillowy bubbles and sink down into the epitome of relaxing, bath-time bliss.
As a Botanical Perfumery, we layer over ten rich, gorgeously fragrant oils into every single 100 Acres product from our scent palette of flowers, herbs and fruits.
Most brands include 2 or 3 botanical oils at best (and often at under a quarter of the concentration that we include them at), so this is what makes our products smell so potent, luxurious and unmistakably 100 Acres.
Each product has a different scent - use various products in our Signature Collection throughout your day to layer all of our fragrances together, allowing all of these botanical oils to mingle and interlock on your skin, leaving you smelling absolutely heavenly.
We recommend using alongside our award-winning body wash and silky body lotion for skin that smells and feels other-worldly.
We believe what goes on your skin ends up inside your body, and as founders, we created 100 Acres as something we could use every day. We have incredibly high standards.
Made with the purest natural ingredients, our products don't just smell sublime - we only use super high-quality, nutrient-dense ingredients that genuinely nourish your skin.
Rose Absolute – aside from it's intoxicating scent, rose absolute improves skin barrier function and reduces water loss, ensuring skin retains moisturised, supple and plump.
Glyceryl Oleate is a renowned, plant-derived skin-softener that leaves skin softened, hydrated and never dry or stripped.
Lavender Oil increases the expression of collagen, which encourages youthful skin. It's also packed with nutrient-rich antioxidants to protect skin from daily pollutors and free-radicals.
Made with the very finest natural and organic ingredients. We use essential oils in high concentrations.
Free-from parabens, skin-drying sulphates (SLS and SLES), phthalates, triclosan and petrochemicals. Our products contain high percentages of essential oils.
Made in the English countryside by our artisan production studio, using the finest natural ingredients.
Cruelty-free. Vegan.
The bottle and box are fully recyclable. All 100 Acres packaging is either recyclable, biodegradable or already recycled, and we only use FSC card and vegetable inks.
400ml. Comes packaged in a beautiful box. Also available in miniature 100ml travel size - please note our 100ml size does not come with a box and may use our old packaging design.
Aqua, Lauryl Glucoside, Sodium Cocoamphoacetate, Glycerin, Disodium Lauryl Sulfosuccinate, Sodium Cocoyl Glutamate, Glyceryl Oleate, Coco Glucoside, Sodium Lauryl Glucose Carboxylate, *Pelargonium Roseum (Rose Geranium) Leaf Oil, *Lavandula Angustifolia (Lavender) Flower Oil, *Anthemis Nobilis (Roman Chamomile) Flower Oil, *Rosa Centifolia (Rose Absolute) Oil, *Citrus Reticulata (Mandarin Red) Peel Oil, *Cananga Odorata (Ylang Ylang) Flower Oil, *Citrus Aurantium Amara (Petitgrain) Leaf/Twig Oil, *Citrus Aurantium Dulcis (Sweet Orange) Peel Oil, *Eugenia Caryophyllus (Clove) Bud Oil, Styrax Tonkinensis (Benzoin) Resin Extract, Parfum, Benzyl Alcohol, Dehydroacetic Acid, Panthenol, **Limonene, **Linalool, **Geraniol, **Citronellol, **Benzyl Benzoate, **Benzyl Alcohol, **Eugenol.
*natural pure essential oil **potential allergen
Free Shipping on orders £70+.
Standard Shipping is £4.95. Most orders arrive within 2-3 working days but please allow 5. We ship all orders either on the same or following working day, and use a next-day courier. See here for further shipping information.